Outdoor Fall Artist Market!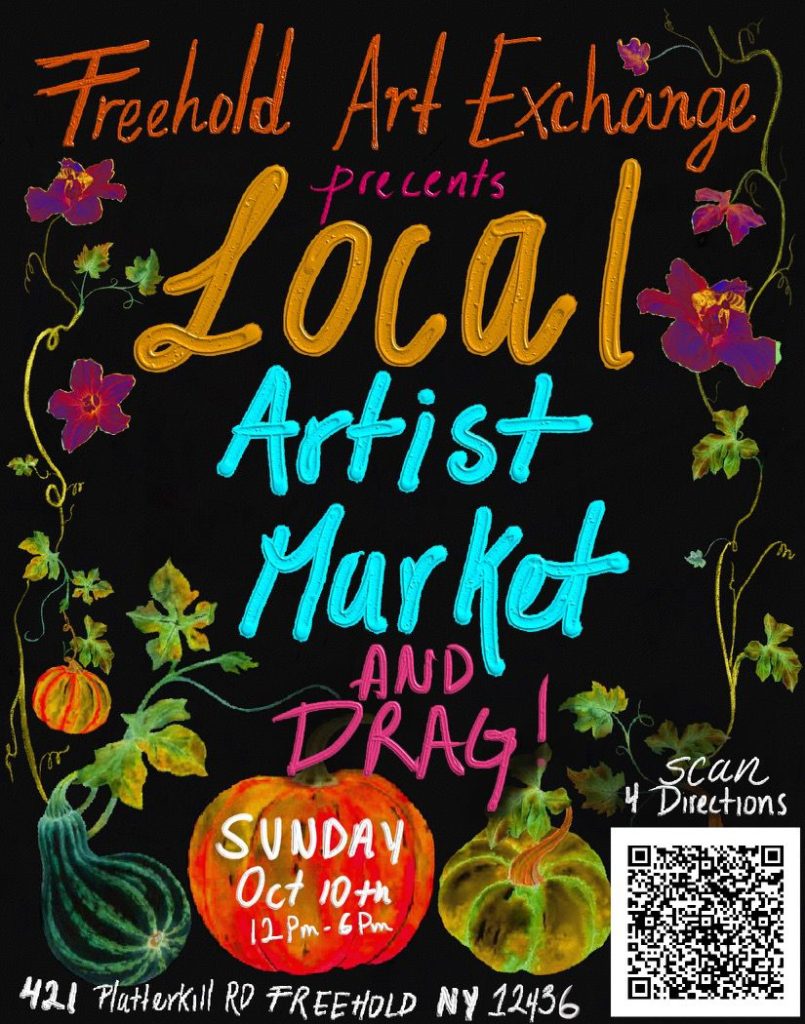 FAEx's Fall Market is upon us!Please join us for our 3rd local artist market at Freehold Art Exchange
Sunday, October 10th
Market 12pm to 4pm outdoors on our main field
Drag Show 4:30-6:00pm outside the barn on the back steps
FREE ENTRY FOR ALL!
This is an open call for artists and craftspeople of all levels and backgrounds from Columbia, Greene, Ulster and Albany Counties.
This is an invitation to the artist (beginning to professional) to interact with each other, and for art appreciators to show off their appreciation skills! We hope to create with this market not only learning opportunities, but also financial opportunities for artists, both crucial to the development of an artist's craft.

For information, please email us at freeholdartexchange@gmail.com
We look to see you there! Bring your friends! All are welcome! "
Ongoing Programming!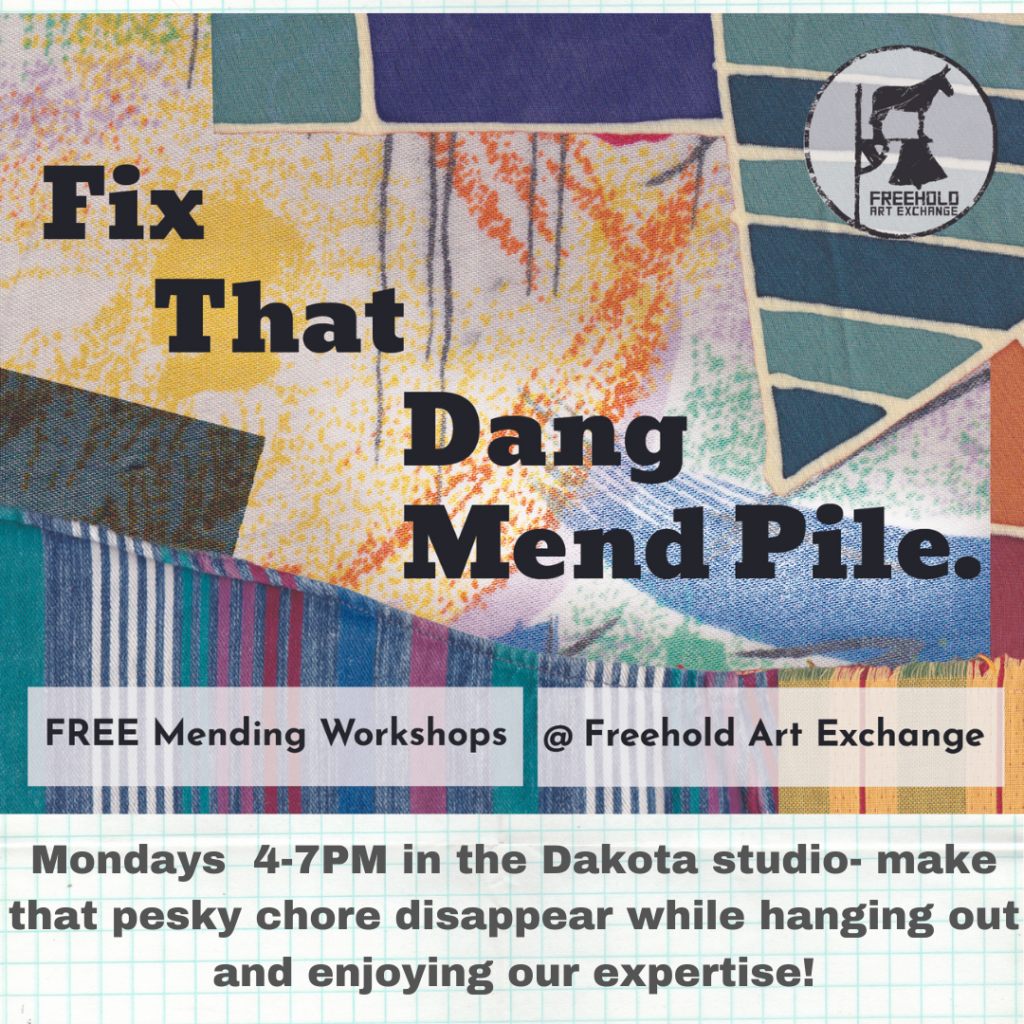 We will be re-starting the Fix Your Effin' Mend Pile workshop series, starting Monday, July 19th, at the Freehold Art Exchange! It will run every Monday from 3 to 7pm for July and August. September and October (same time) will be a Halloween Costume Workshop, and a coat rehab for November. These workshops are open age, and open skill level. We are so excited to sit and be productive together, while learning together and reclaiming our beloved wardrobe pieces.
(Please note we are still observing CDC recommendations, and ask that if you are unvaccinated (or have concerns) that you wear a mask. Hand sanitizer is available.)
FAEx is proud to welcome our 2nd 2021 Residency program!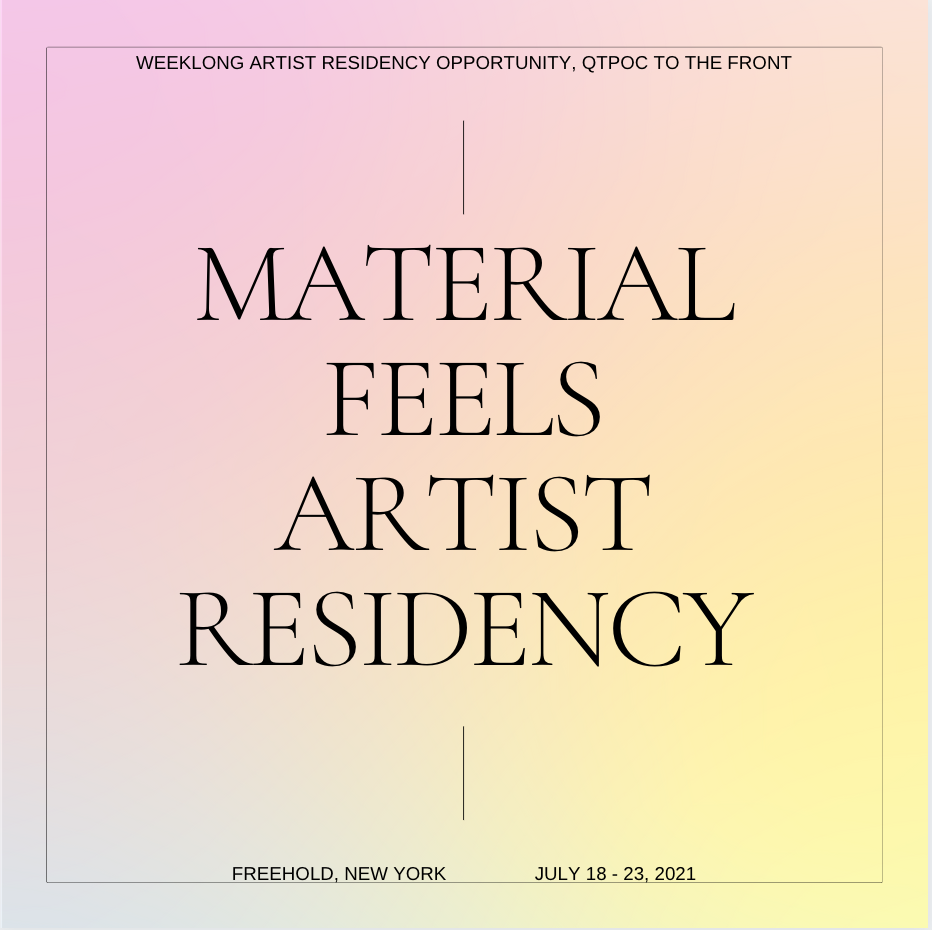 Catherine Monahon is an audio storyteller and multimedia artist with a background in art education; based in Oakland, CA and from NY state, they consider this residency a "homecoming" of sorts. This two-part group residency is divided into two focuses, with two different groups of artists exploring audio and pollinators. The Audio Residency is dedicated to audio as a storytelling material; joined by investigative journalist Lucy Kang and musician Liz de Lise, the group will explore how sound can conduct emotion, shape a story and transport the listener. Personal projects include narrative building, songwriting and site-specific soundscapes. The Pollinator Residency is an opportunity to learn from interspecific relationships, specifically bees, beekeeping and working with wax as a creative material. Joined by writer and beekeeper Ang Roell and fiber artist Selena Loomis, the group will explore the properties of beeswax, the art of foraging and personal practices of writing, quilting and recording.
FAEx is delighted to welcome our 1st 2021 resident, Anne Devine!
May 31st-June 14th, Anne Devine will be joining us to explore her project 'Burying the Hatchet,' …please stay tuned for more details!
Come join us Sunday, May 23rd for some delightful shenanigans on the field- our 2nd Market of (hopefully) many to come!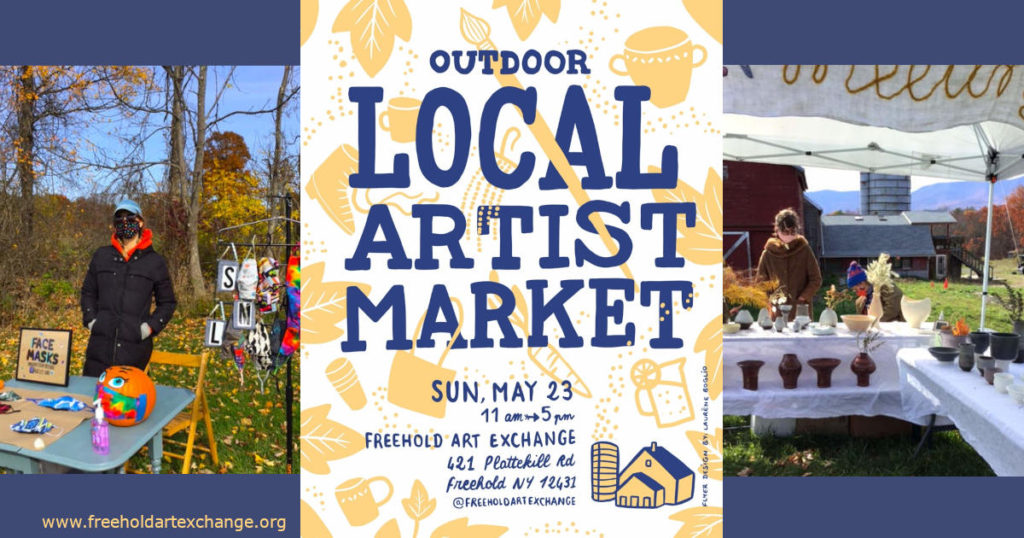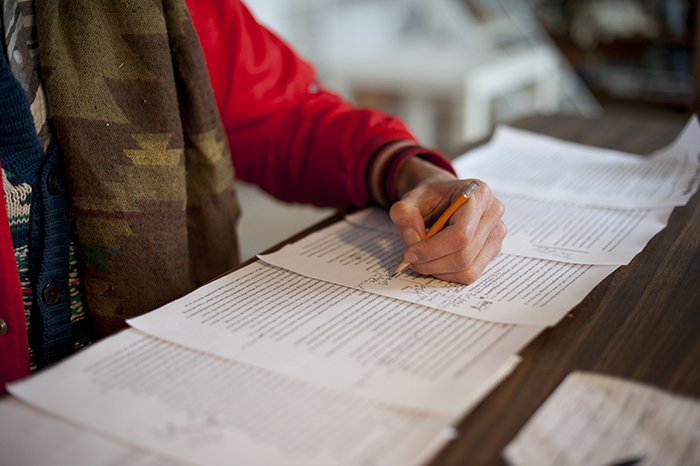 MISSION:
FAEx is a non-profit arts residency program made from and for an accessible community of artists speaking up for social change and environmental sustainability.
VISION:
Our world is fractured. The environment is threatened and degraded as we move away from our planet and one another. As humanity fragments into embattled tribes, it becomes even more important to create a safe workspace for those who can bridge the gaps between "Us" and "Them." For all to flourish, it is essential to notice and nourish the vision within each person and their potential for expression and collaboration. Effective advocacy and activism must be pervasive through all parts of society- we look to our artists for their messages/vision, and form deeper emotional resonances/reactions beyond subjective facts. Public discourse has stifled many voices, and the Freehold Art Exchange is committed to counteracting silence, institutional oppression and disconnection between marginalized groups. We vow to provide a safe and inclusive space where an artist's inner vision can catch and spread among a supportive community of diverse perspectives. Artists need to speak their truths and our world needs to be able to hear them- we want to provide the conduit.
HOW WE ACCOMPLISH THIS:
Resources for artists are increasingly scarce and competitive, and FAEx tries to counteract that trend. We provide a stage for multi-discipline art that supports the planet and basic human rights, and we offer a safe space to challenge audiences with alternatives to the status quo as presented by the contemporary art climate. We are committed to creating a community for changemakers, based in collaboration, mutual respect, and radical generosity.
Built on a work-exchange model, we provide residencies regardless of income. An artist could directly contribute to the program with their skills and labor. Or they can pay a fee so they can fully immerse themselves in their work. Eventually we hope to offer an annual scholarship residency as well as a community service residency where artists have the option to continue their projects in collaboration with our partners in the Hudson Valley.
The residency is located on the co-founder's fifty-seven acres of wooded land near the Catskills in the hamlet of Freehold, NY. FAEx is removed from the urban environment, but close enough to benefit from the thriving culture of the Hudson Valley and New York City. Artists-in-residence live in a newly constructed three-bedroom residency house and share studio spaces with local artists in the repurposed dairy barn. All artists are invited to participate in the communal organic garden or take walks in our forest. Between residencies, our Patron Rental program rents the residence to directly subsidize artists-in-residence.
Intrinsic to FAEx's mission is the belief that art can rebuild our world for the better. Freehold Art Exchange's resources have developed through the collaboration between local and resident artists, craftsmen and thinkers who give their time and energy in exchange for studio access and quiet respite. We are committed to using our network to help artists develop their ideas and make meaningful relationships. And ideally, those who participate will remain a part of our growing community.
To discuss supporting our mission or applying for a potential residency: (518.421.0388) | info@freeholdartexchange.org