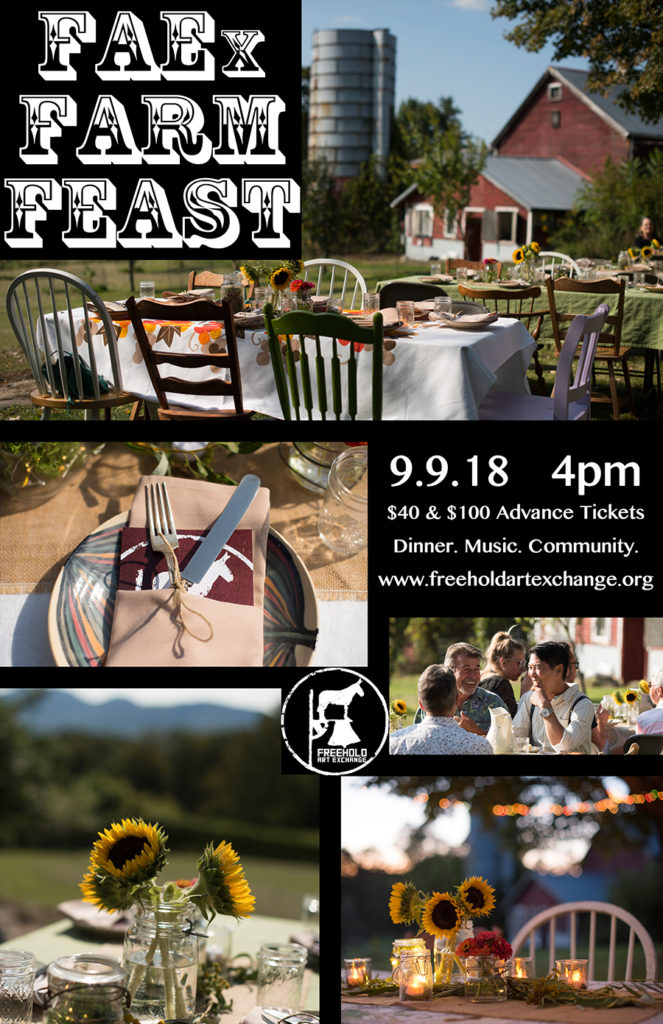 Second Annual FAEx Farm Feast Features Local Culinary, Sonic and Ceramic Delights with Spectacular Views of the Catskills
Freehold Art Exchange invites you to our Second FAEx Farm Feast 2018 on Sunday, September 9th. The event will feature local food, craft beer, musicians and ceramic plates as party favors. Festivities begin at 4pm; dinner begins at 5pm. DIRECTIONS ARE BELOW. We have two pricing tiers:
| | |
| --- | --- |
| Dinner+Plate: Advance tickets $40 until August 31st. Full price tickets are $50. | |
| | |
| --- | --- |
| Dinner+Plate+Limited Edition Platter by Asia Sosnowski: Advance Tickets $100 until August 31st. Full price tickets are $120. Coordinating plate+platter! | |
Additional plates are available for purchase at event for $30 each or $100 for a set of 4. Buy a coordinating set!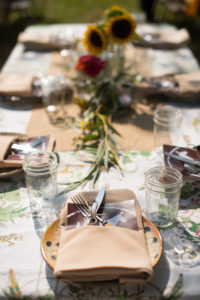 Outdoor dining, live music, twinkle lights and a soft autumn sunset over the Catskill Mountains set the tone for this intimate dining experience in Freehold, NY. Chef Zach Stough and Michele Delage of Winkle's Bakery will prepare locally sourced food and treats with vegetarian, dairy free and gluten free options. Dinner guests eat on hand made ceramic plates by Asia Sosnowski, FAEx's Ceramics Facilitator, and decorated by many local artists. Each guest will take home their unique dish at the end of the night. Bands will perform intermittently throughout the night. Wine from Hudson Chatham Winery and local beer from Rare Form Brewery will be available by donation. Event design by Liz Shaw Design.
FAEx is an artist residency program for visual and interdisciplinary artists invested in social justice, environmental sustainability, and community engagement. Since 2012, Artists-­in­-residence have lived and worked onsite using studio spaces and workshops in the repurposed garage and dairy barn. We also offer studio spaces to Greene County artists and makers. The facility, on 57 acres of land in the Catskill Mountains, includes artist studios, organic garden and hiking trails. FAEx encourages an interdisciplinary and conservation-oriented approach to art making. We provide opportunities for artists to deepen their connection with the earth and their communities.
FAEx recently renovated their ceramics workshop and broke ground on a three-bedroom house that will host up to six artists-in-residence.
All ticket sales and donations will fund FAEx programs.
FAEx is located in Freehold, New York. Rural GPS can be inaccurate– We advise that you follow the
DIRECTIONS HERE
or risk getting lost.