FREEHOLD ART EXCHANGE FOUNDERS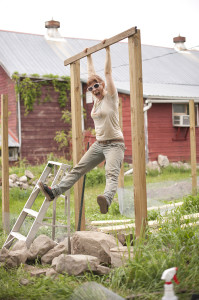 PIPER DORRANCE ­ Piper is a nurse, craftsman, arts facilitator and fledgling sustainability advocate. Currently working at St. Peter's Hospital in Albany, NY, she spends her free days at FAEx, working on barn renovation, gardening and forest maintenance. She received a BA from Vassar College in Art History and Chemistry, including an art conservation internship at Boston's Museum of Fine Arts. Piper has a background in computer and stop­-motion animation, fiber arts, woodworking, pottery, music, painting, and drawing. Her current focus is human health and wellness, which has allowed her to buy the facilities for FAEx. Motivated by her experiences with communal living, she is excited to live in a place where people gather to focus on their own art and collaborate on various projects.
MOLLY STINCHFIELD Molly is an artist, activist and community arts organizer. She received her MFA in Photography and Media from California Institute of the Arts, BFA in Art+Design from SUNY Purchase and awards from CalArts, the Lower Manhattan Cultural Council, the Manhattan Graphics Center, and Richard and Dolly Maas. Her artwork has been exhibited in New York, San Francisco, and Los Angeles in venues such as the Roy and Edna CalArts Theater (REDCAT), A.I.R. Gallery, West Wave Festival and IMPACT Festival. Art Voices, Z!NK, Whitehot Magazine, Misadventures Magazine, Title, Exit 168 and other publications have featured her writing and images. Molly's multimedia artwork investigates trauma and healing, the body as a symbol for power imbalances and how social categories can lead to discrimination and injury.
FAEx Team Members
Current Board of Directors:
Niva Dorell, Piper Dorrance, Mariquita Reese, Janell Tryon and Molly Stinchfield.
Current FAEx Artist Collective:
Justin Calder, Stephanie Dougherty and Asia Sosnowski.
Past Board Members:
Kat Griefen, Rob Johnson, Dakota Kim and Carrie Tuccio
Endless thanks to our community partners, volunteers and consultants:
CATSKILL MAKER SYNDICATE: Renovations and Operations
KIMBERLY ALLISON-GRANT GIFT: Structural Design Consultant
FRED PIUMELLI, LIZ SHAW: Fundraising and Outreach
TAYLOR SHAW, JUSTIN CALDER: Graphic Design and PR
KILEY BOEHLKE, ARIELLE SOLOMON: Interns
LAURA CURRY, JANELL TRYON, ARIYAH APRIL, BRYAN STINCHFIELD, and LYDIA BOTTOM: Strategic Planning